CEBX 101 SCHNABEL CAR KIT

---
PRR 470256 SPECIAL DEPRESSED FLAT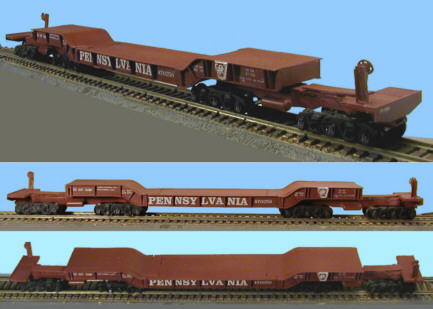 Prototype Specifications
Capacity
500,000 lbs.
Light Weight
240,000 lbs.
Load Limit
507,000 lbs.
Number of axles (36" wheels)
12
Deck Length
30'
Car Length
92',8-1/2"
ON HOLD FOR DELIVERY OF 3-AXLE BUCKEYE TRUCKS
(Ugh Tonto, White man lie again.)
The Pennsylvania PRR 470256 depressed flat car was designed to carry a large load on the supressed deck of this mammoth flat car. Decals are provided for lettering this car in its original Pennsylvania railroad scheme. The body of the car rides on two bolsters, which in turn ride on 3-axle trucks.
MSRP $TBD USD
Sold less trucks and couplers.
You may purchase this item through PayPal even if you are not a member of PayPal. Just click on the OK button to start the process.
To Buy this model, Click on Add To Cart
To complete purchase Click on View Cart.